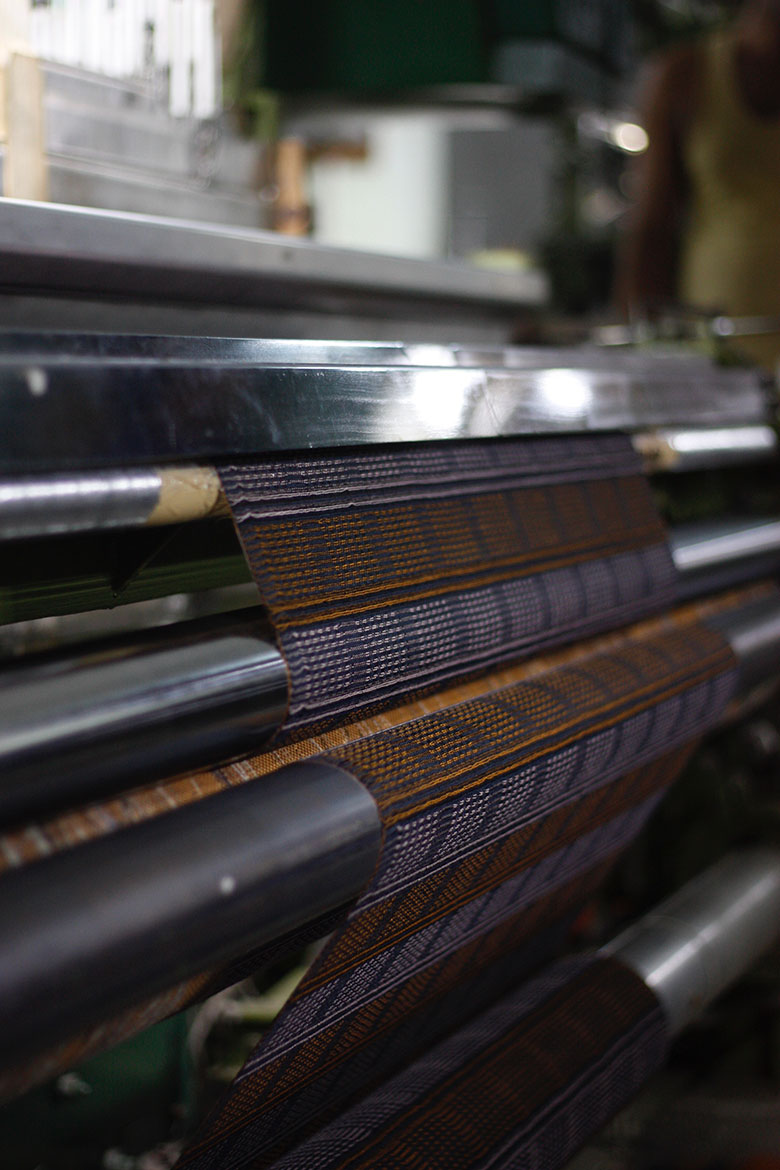 SCREEN PRINTING
Screen-printing Screen-printing is a serigraphic printing process. This technique consists of applying screens successively over the fabric stretched on long printing tables several dozen meters long. It requires one screen per colour, and the overlaying of the different colours creates the final pattern. This technique demands great meticulousness. Two workers per table are needed to apply the screens to print each colour. This ancestral technique requires precision and patience to reveal the colours one by one, to make the pattern appear. A complete process of colour fixing is then necessary to obtain the final result.
Mapoésie has chosen serigraphy for the high quality of its printing and colour rendering.  It is the essence of Mapoésie's distinct universe.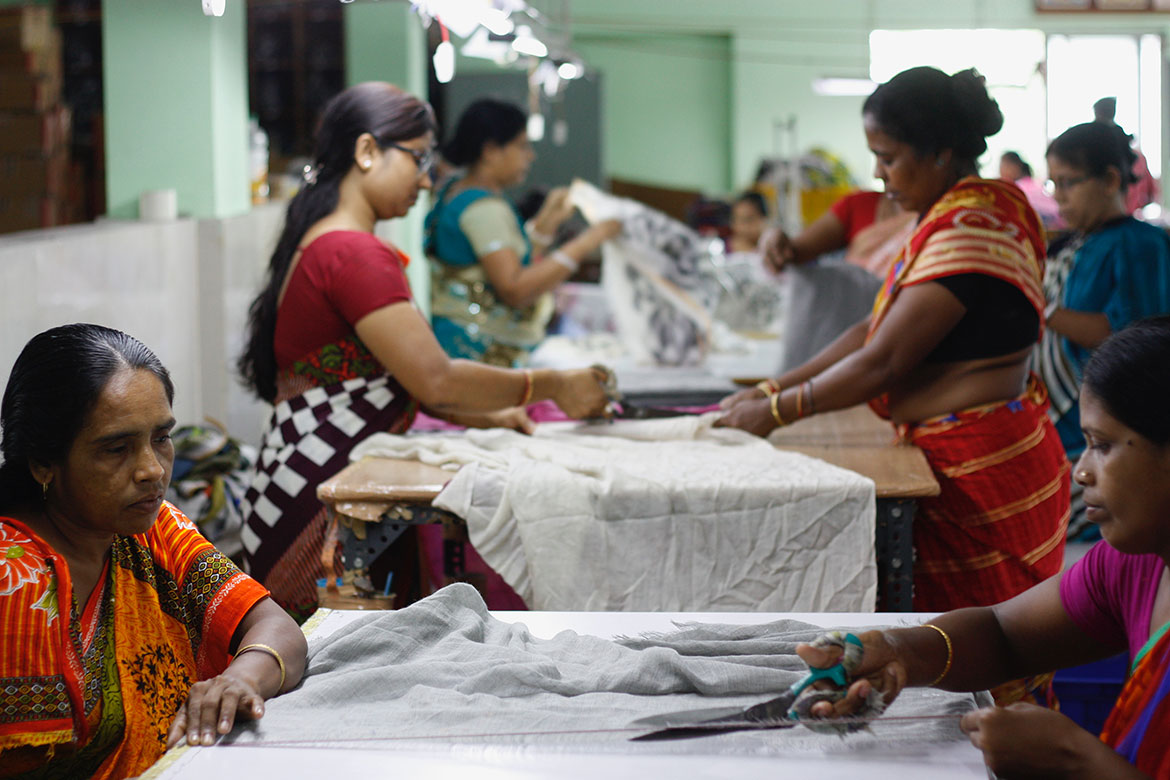 WEAVING
Weaving is the process of assembling yarns on a loom to obtain warp and weft fabric.
It entails the interlacing of warp threads (stretched lengthwise on the loom) and weft threads (stretched widthwise on the loom). Depending on the desired result for its materials, Mapoésie favours mechanical weaving (involving machines) or hand weaving.
Some of our weaving references are developed specifically by the brand in order to highlight this know-how and to stand out as a creator.
EMBROIDERY
Embroidery is a type of ornamentation that has existed since the dawn of time. Thanks to the various techniques (needle, crochet, etc.) embroidery is the ultimate art of sublimating a fabric, making it even more precious.
Mapoésie has been applying this technique to its creations for many years by playing with colours and patterns. Depending on the desired result, the embroidery is made by hand, by machine, or semi-manually (machine embroidery guided by hand).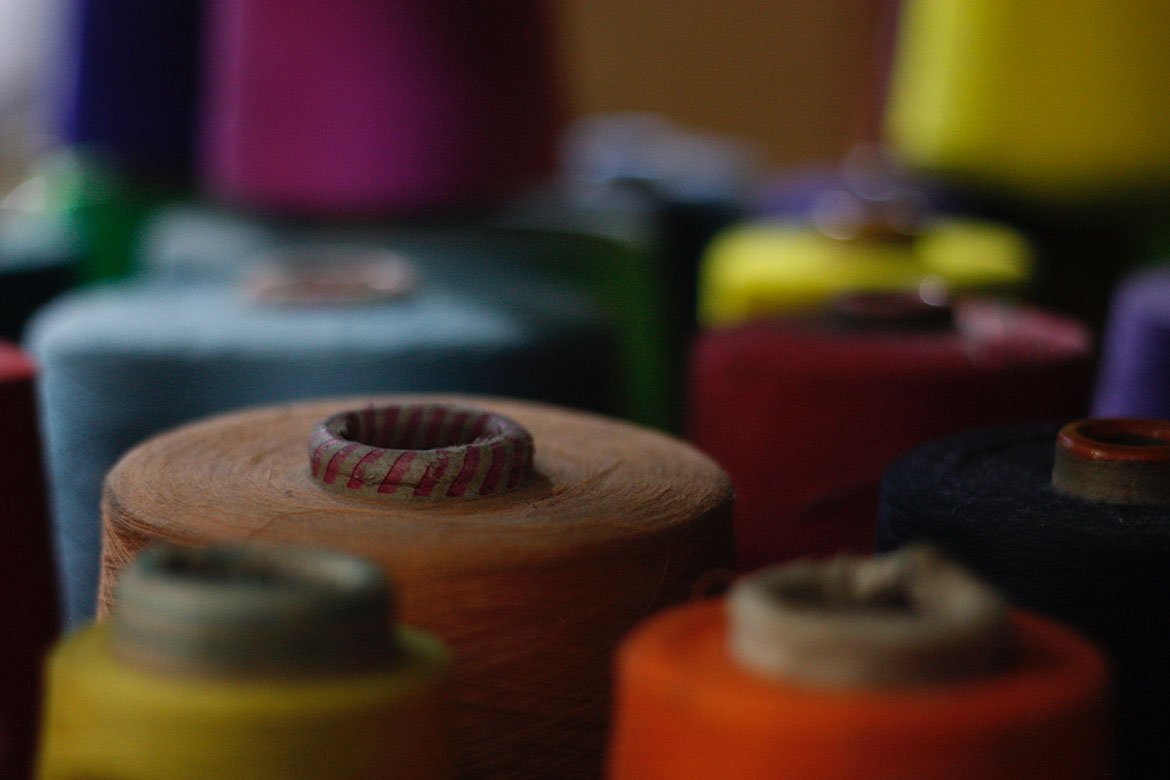 JAMBDANI
The traditional art of Jambdani weaving is a technique that originated in Bengal more than 2000 years ago. On manual looms, using a needle, weavers incorporate a pattern into the weft, stitch by stitch.
The pieces are created directly on the loom using a discontinuous weft technique. This technique requires a great deal of time and concentration on the part of the craftsman. It is these traditions, specific to India, that Mapoésie wants to highlight to perpetuate them through contemporary designs. This is a true meeting of tradition, artisans and designers.
Mapoésie has chosen this ancestral technique and reinterprets Jambdani with its play of colours and geometry. Some pieces require more than a week's work to be completed.
CROCHET 
This ancient technique, using a hook, was present in the four corners of the world very early on. It is used to make objects or textiles depending on the fibres used.  In the past, this know-how was passed on from generation to generation.
At the beginning of the 20th century, crochet was industrialized before becoming again a craft.
Mapoésie has chosen this technique using natural fibres such as raffia or cotton to make accessories or objects with a unique look.